Double grooved conveyor rollers grooved rollers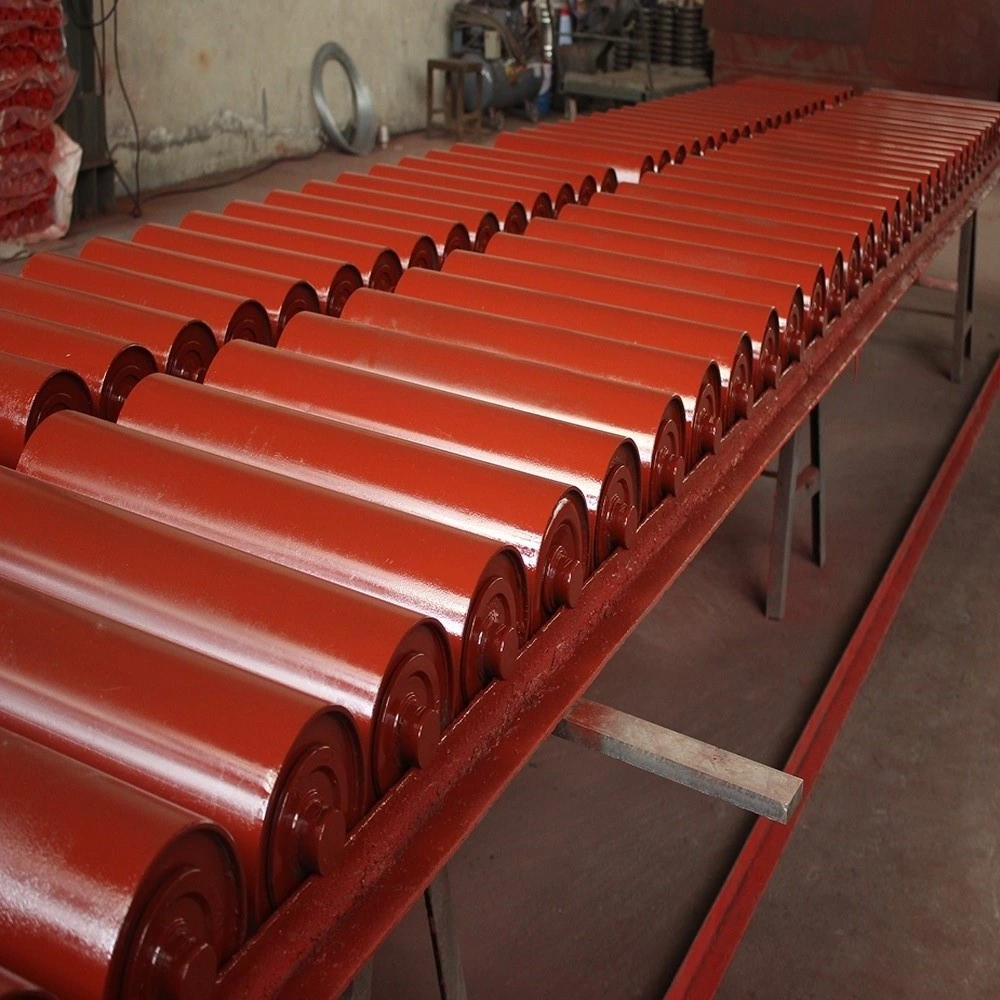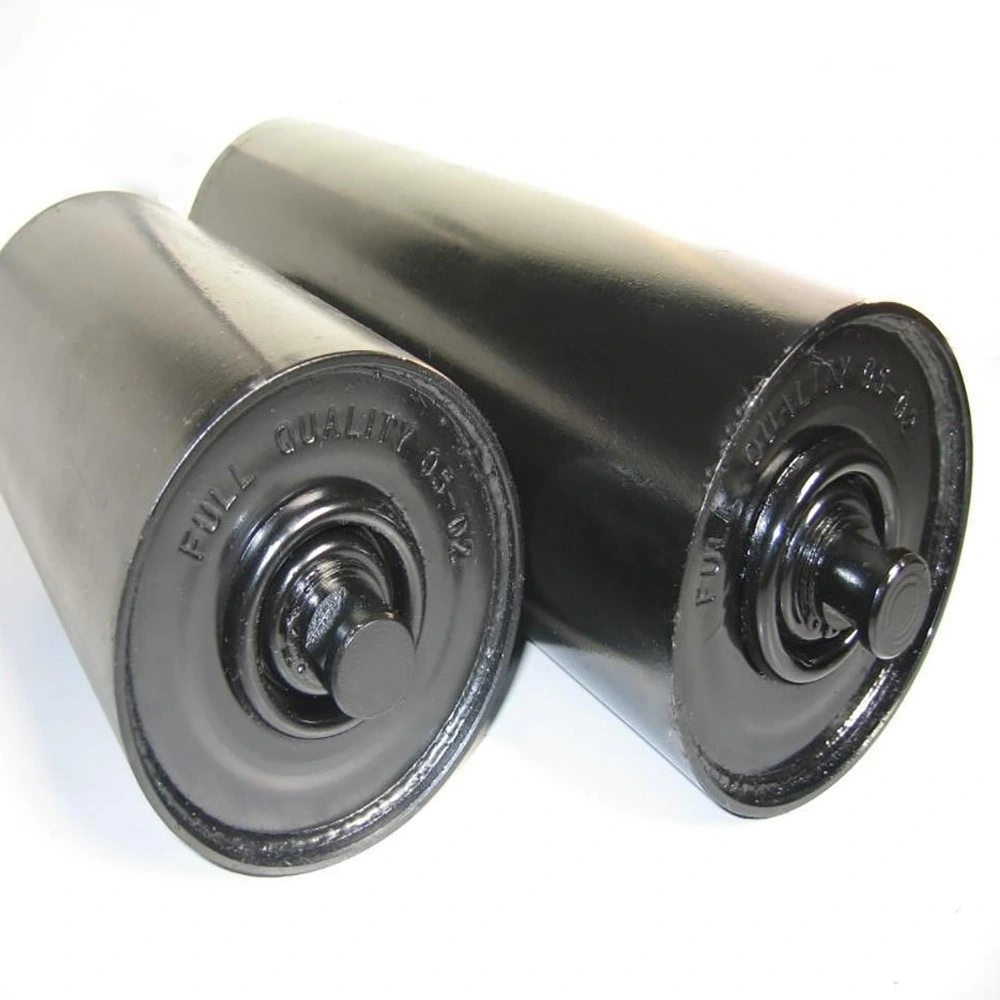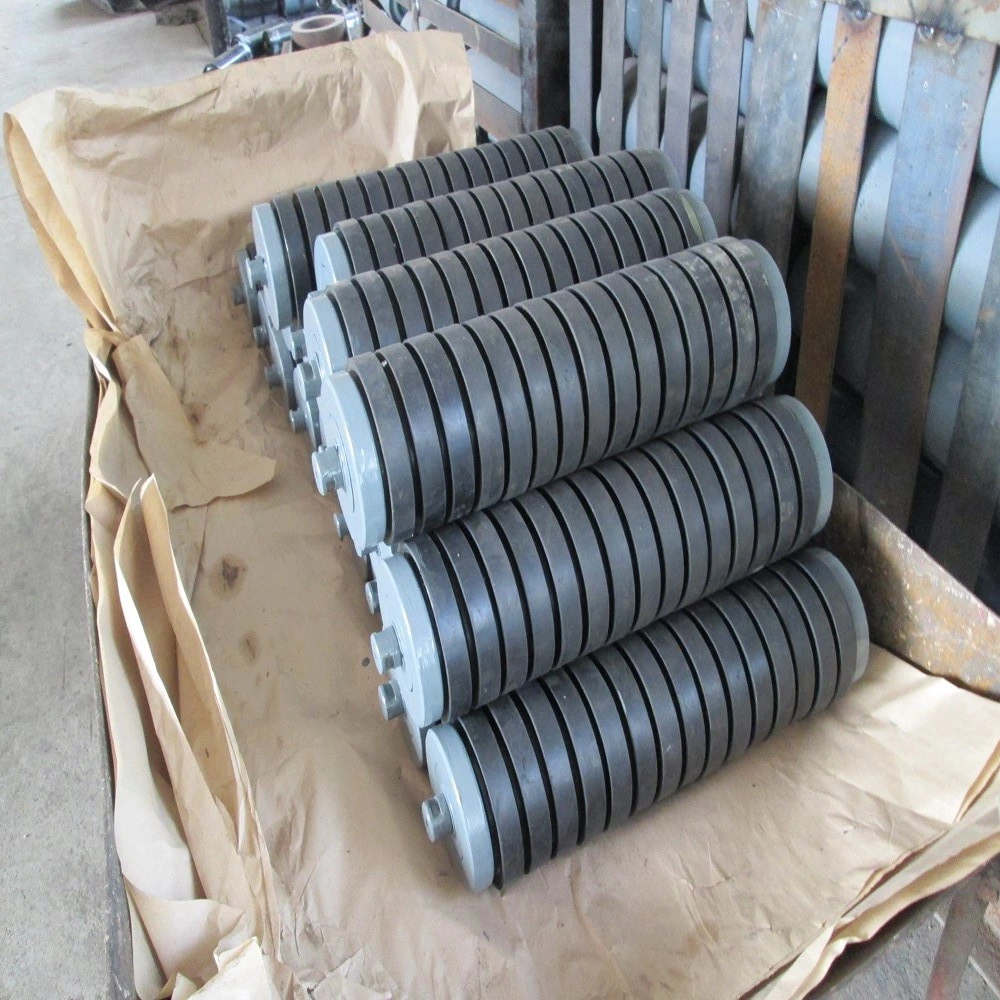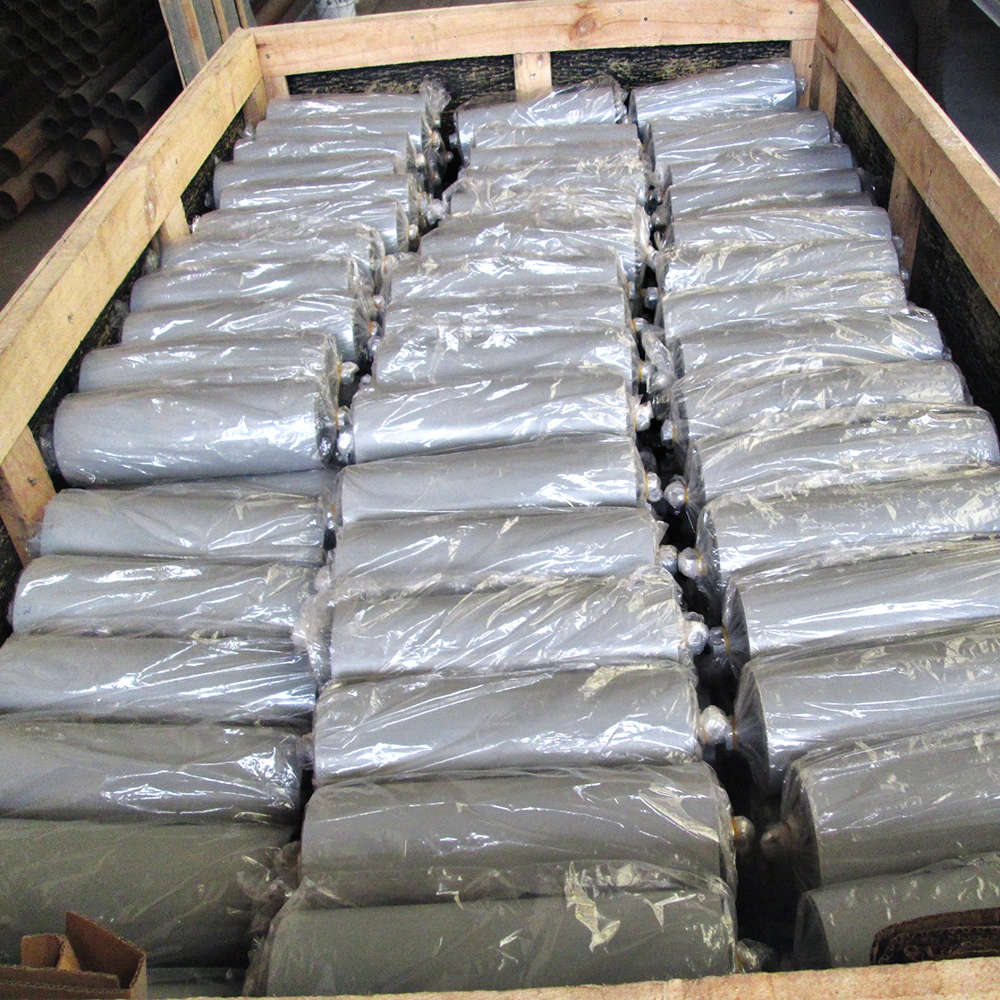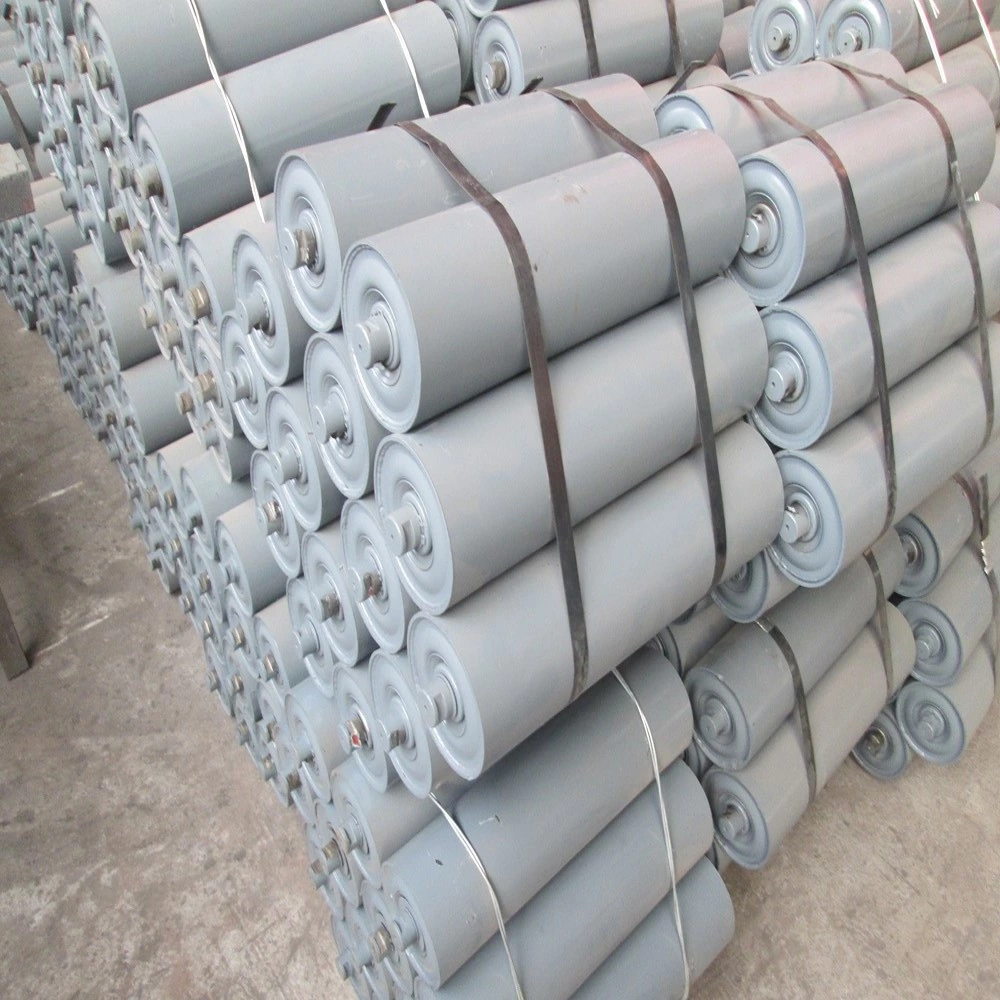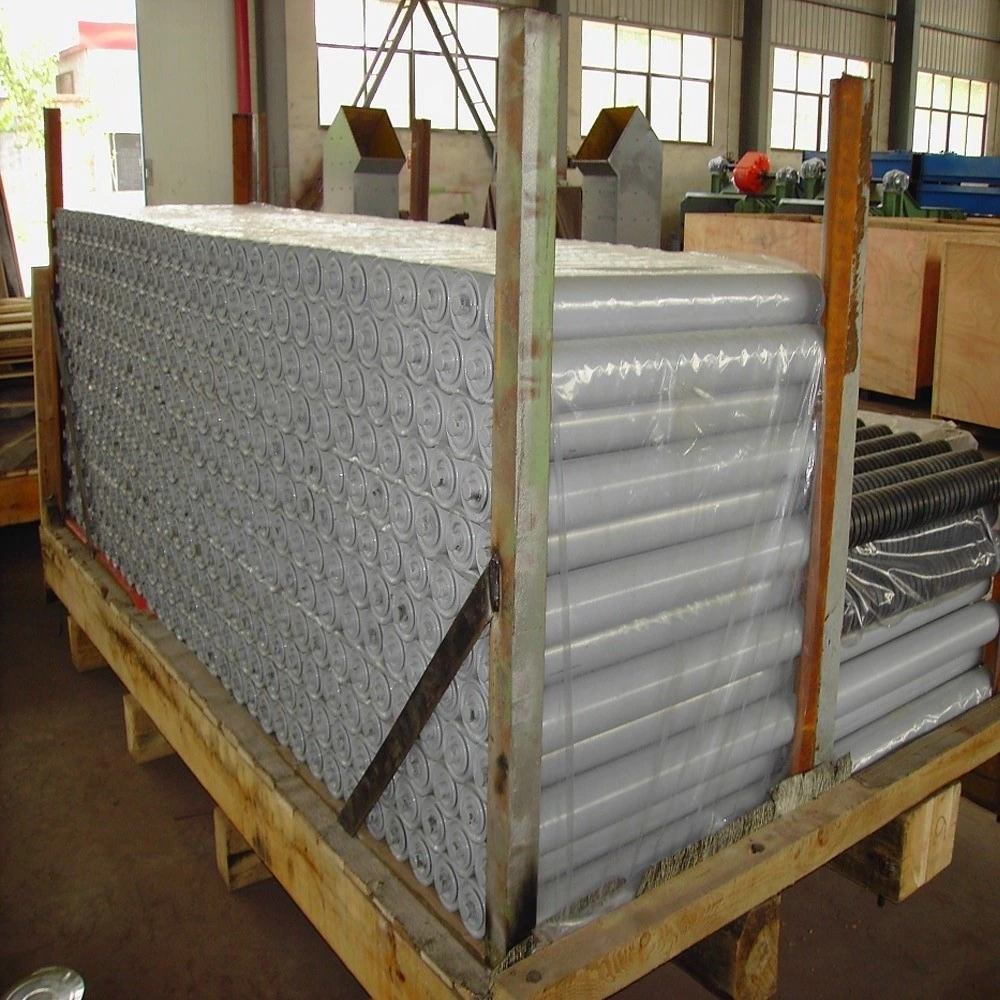 Introduction
Conveyor roller, important component of belt conveyor, is used to effectively support belt and bulk material of conveyor. Conveyor roller consists of shell, shaft, bearing, housing, seals and snapring. According to China national standards, diameter are Ф76,Ф89,Ф108,Ф133,Ф159 etc. PK Machinery conveyor roller is of unique structure, reasonable fitting and accurate assembly, resulting in high capacity and long service life.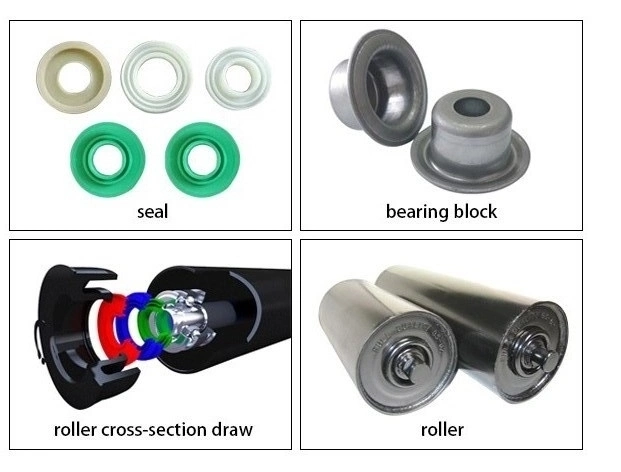 Features
1.
Adopt cold-drawn round steel with higher surface precision as the shaft material.
2.Good coaxiality and cylindricity.
3.Adopt special technology, can reduce the innerstress and welding heat deformation produced during assembling substantially.
4.Rotate resistance is small, weight is stable, service life can be more than 50000 hours
5.Non-contact type labyrinth seals, higher dust-proof and water-proof properties.
6.Roller with good dynamic and static balance performance.
7.Easy to maintain and replace.
8.Smooth surface, prevent damaging of conveyor belt.
Production technology and process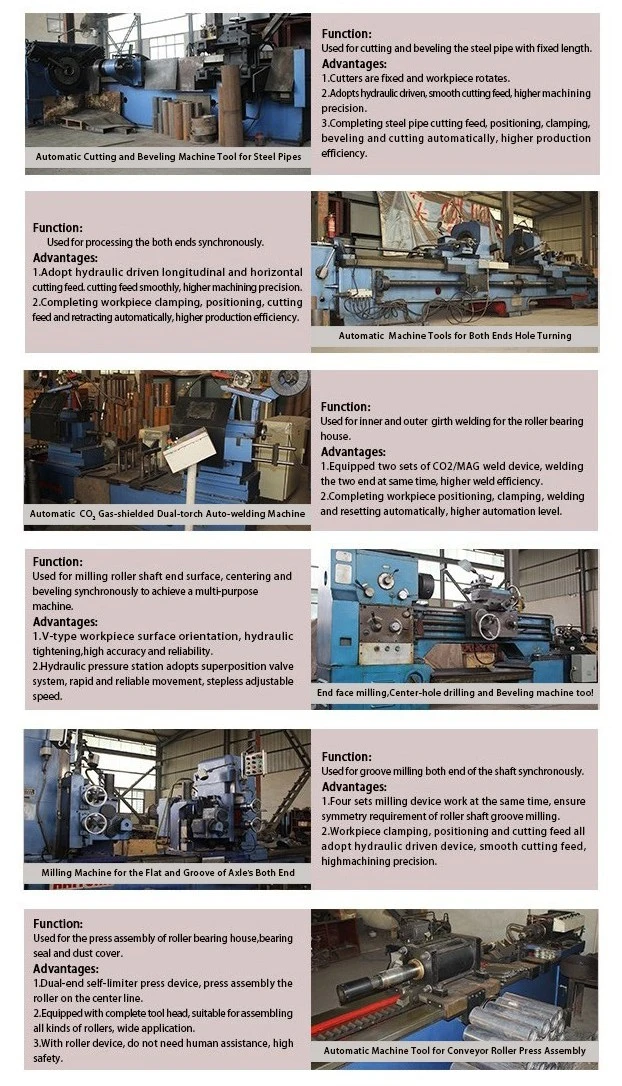 Technical Parameter:
Diameter

Lenth mm

Pipe Thickness

Shaft Diameter

Bearing Type

Seal Type

Weight(kg)

63.5mm

200

3mm

15mm

6203/4C

Labyrinth Type

1.86

600

3mm

15mm

6203/4C

Labyrinth Type

4.48

76mm

200

3mm

20mm

6204/4C

Labyrinth Type

2.54

250

3mm

20mm

6204/4C

Labyrinth Type

2.85

600

3mm

20mm

6204/4C

Labyrinth Type

5.82

750

3mm

20mm

6204/4C

Labyrinth Type

7.05

89mm

200

3.5mm

20mm

6204/C4

Labyrinth Type

2.8

250

3.5mm

20mm

6204/C4

Labyrinth Type

2.99

315

3.5mm

20mm

6204/C4

Labyrinth Type

3.59

600

3.5mm

20mm

6204/C4

Labyrinth Type

6.49

750

3.5mm

20mm

6204/C4

Labyrinth Type

7.88

950

3.5mm

20mm

6204/C4

Labyrinth Type

9.73

108mm

250

3.5mm

25mm

6205/C4

Labyrinth Type

4.3

315

3.5mm

25mm

6205/C4

Labyrinth Type

5.07

380

3.5mm

25mm

6205/C4

Labyrinth Type

5.87

465

3.5mm

25mm

6205/C4

Labyrinth Type

6.89

530

3.5mm

25mm

6205/C4

Labyrinth Type

7.7

600

3.5mm

25mm

6205/C4

Labyrinth Type

8.54

750

3.5mm

25mm

6205/C4

Labyrinth Type

10.37

950

3.5mm

25mm

6205/C4

Labyrinth Type

12.78

1150

3.5mm

25mm

6205/C4

Labyrinth Type

15.2

1400

3.5mm

25mm

6205/C4

Labyrinth Type

18.11

1600

3.5mm

25mm

6205/C4

Labyrinth Type

20.7

133mm

250

4mm

25mm

6305/C4

Labyrinth Type

4.3

315

4mm

25mm

6305/C4

Labyrinth Type

7.12

380

4mm

25mm

6305/C4

Labyrinth Type

8.23

465

4mm

25mm

6305/C4

Labyrinth Type

9.62

530

4mm

25mm

6305/C4

Labyrinth Type

10.7

600

4mm

25mm

6305/C4

Labyrinth Type

11.86

700

4mm

25mm

6305/C4

Labyrinth Type

13.53

800

4mm

25mm

6305/C4

Labyrinth Type

15.17

950

4mm

25mm

6305/C4

Labyrinth Type

17.66

1150

4mm

25mm

6305/C4

Labyrinth Type

20.98

1400

4mm

25mm

6305/C4

Labyrinth Type

25

1600

4mm

25mm

6305/C4

Labyrinth Type

28.48

159mm

315

4.5mm

30mm

6306/C4

Labyrinth Type

9.38

380

4.5mm

30mm

6306/C4

Labyrinth Type

11.87

465

4.5mm

30mm

6306/C4

Labyrinth Type

13.8

530

4.5mm

30mm

6306/C4

Labyrinth Type

15.27

600

4.5mm

30mm

6306/C4

Labyrinth Type

16.86

700

4.5mm

30mm

6306/C4

Labyrinth Type

19.13

800

4.5mm

30mm

6306/C4

Labyrinth Type

21.4

1150

4.5mm

30mm

6306/C4

Labyrinth Type

29.34

1400

4.5mm

30mm

6306/C4

Labyrinth Type

35.02

1600

4.5mm

30mm

6306/C4

Labyrinth Type

39.56
We mainly provide the following equipment
s
:
Vibrating Screen
Rotary vibrating screen
Ultrasonic vibrating screen
Gyratory screen
Trommel screen
Linear vibrating screen
Circular vibrating screen
Dewatering screen
Vibrating feeder

Belt Conveyor

Belt conveyor

Sidewall belt conveyor

Portable belt conveyor

Shuttle conveyor

Tripper

Bucket Elevator

Efficient bucket elevator

Belt bucket elevator

Ring chain bucket elevator

Plate chain bucket elevator

Cement bucket elevator

Silo bucket elevator

Screw Conveyor

U-type screw conveyor

Cement screw conveyor

Pipe screw conveyor

Scraper Conveyor

Horizontal scraper chain conveyor

Incline scraper chain conveyor

Grain scraper chain conveyor