Steel Roller
1. Steel sproket welded with tube, make it capable to transmit higher torque, and meet with the request of transportation of heavy duty pallet.

2. The covering on the outside of the sproket, well dust proof and water splash proof in operation environment.

3. The bearing in the end of the sproket is dismountable, not only increase load capacity, but also helpful for maintenance.

4. The precision ball bearing is fixed by impact in the steel bearing house, tight and durable.

5. Tight steel bearing housing could bear more heavier duty polymer bearing unit.

6. Compared with roller with polymer bearing unit, its noise is a little bit louder.

7. Temperature range: -10 to +80
ºC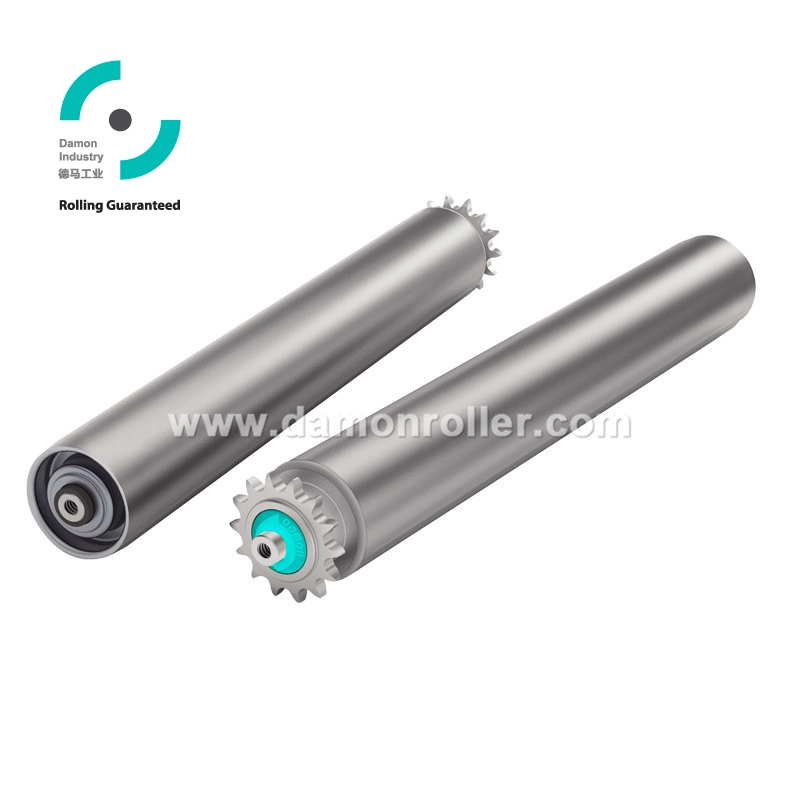 About DAMON:
Damon is Global Leading and Professional Manufacturer of Conveyor Rollers.
Each year, Damon provides millions of industrial rollers for numerous users from various fields all over the world. More than ten years of professional experience enables our company to provide strong support for global enterprises to achieve highly efficient logistics.
Zhejiang Damon, the wholly-owned subsidiary of Damon Group, has always been devoted to provide high quality conveyor roller products and technical services for extensive industries since its establishment in 1997.
The conveyor roller products of Zhejiang Damon are mainly used in food, medicine, tobacco, clothing, EMS, logistics, manufacturing, rubber, airport ground service and other industrial circles. We offer more stable and creative roller products for you, likewise, we are committed to research customized services matching application, with a view of helping the industrial users to improve productivity and reduce the logistics costs.
We have won the consistent trust from global customers, including those prominent and influential equipment manufacturers and logistics system integrators. Our customers can enjoy more than 40 varieties of products series, covering all specifications that users need. Nowadays, our products have been sold to Europe and America, Australia and scores of other countries and regions, and the sales range is still in expanding.
In China, Damon has established a production base covering 11,000 square meters . We have over one hundred employees of R&D, manufacture, sales and services, thus making contribution to customers in many ways.
In spite of the leading advantage we have achieved in scale, we never cease to pursue more profound market share. From introducing the wholly information-based ERP management system, to the independent research and development of the roller parameterized online drawing system service, we are viewing our market from a brand new perspective, and are pleased to share our ideas of quality and innovation with every customer.
In the future, our company will take creating competitiveness for customers' logistics systems as our mission, and "developing Damon to be the most influential supplier and service provider in the circle of global industrial equipment" as our vision.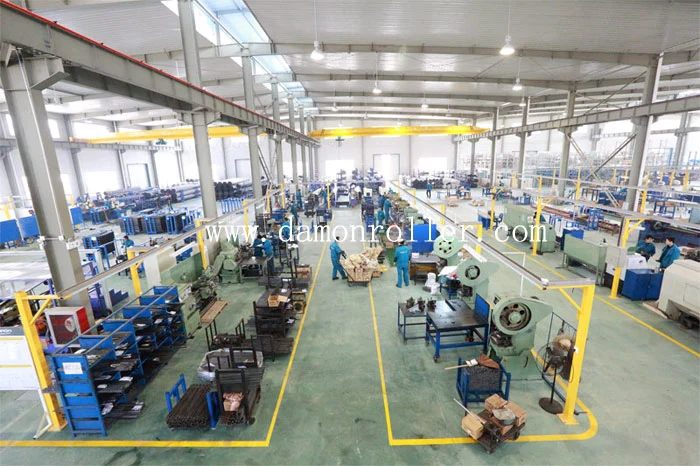 Inquiry is welcome, any visit is welcome, and any discussion for cooperation is welcome
!
D*t

Bearing

Shaft

Sprocket

Tube

Steel Z/P

SS

Φ 50*1.5

6001

Φ 12

08B11T

√

√

Φ 50*2

6001

Φ 12

08B11T

√

√

Φ 60*2

6001,6202,

Φ 12,15

08B14T

√

√

Φ 60*3

6202

Φ 15

08B14T

√

Φ 76*3

6202, 6204

Φ 15,20

10A13T

√

√

Φ 76*4

6204

Φ 20

10A13T

√

Φ 80*3

6204

Φ 20

10B15T

√

Φ 89*3

6204

Φ 20

10B15T

√

Φ 89*4

6204

Φ 20

10B15T

√
Type

D

D1

D2

welding

Φ76

Φ135

20

Φ89

Φ150

20

locked

Φ76 Φ138,195 23